OUR PRODUCTS
Customer Care Drives Lasting Relationships.
---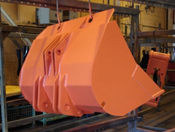 Manufacturing Products To Suit Your Needs

At Industrial Parts Manufacturing, our Mastercam CAM/CAD Industrial Design software allows us to custom-program projects directly on our shop floor. This capability, supported by our highly skilled staff and latest technology allows us to manufacture low to medium volume products for a variety of O.E.M. Industrial Markets.





Industries:





Our product line continues to grow and evolve in response to the needs of our customers and the ever changing demands of the markets we serve.